Want to receive our newsletter automatically each month?
Sign Up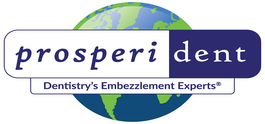 Hello, 2021! Full Steam Ahead
Like so many others, the dental community has endured a nearly year-long stress test. For the most part, dentistry's adaptability to change has been the foundation for its success in recovering from this unprecedented year. Although none of us wants to dwell on the year that was 2020, it did present us with an education and a few "silver linings" as we faced global societal changes and internal cracks, highlighted by the unusual circumstances that characterized the year.
The internal and external trials of 2020 set us at Prosperident on the path of an internal review. Our current policies, products, and services were all put under the microscope to ensure that we kept pace with the changes around us. We have always been committed to remaining a valuable and contributing entity in the dental community. To this end, my team and I have been working with valued clients and outside consultants to ensure that now and in the future, inclusion, diversity, and respect for each other remain a part of our mandate.
2021 will not be like 2020, thank goodness, nor will it be like 2019. The "exercise" of 2020 has delivered to us the remarkable gift of being grateful for change, no matter how difficult. Who we were, who we are, and whom we want to be will create a shift in how we all do business forever. Prosperident is not just a collection of experienced investigators, IT experts, and talented support staff. We are and have for over 30 years been all of those things and more. We are the total of all the energy, experience, and expertise that our team member brings to each investigation and service that we produce or perform. This you can rely on!
2021 will mark the beginning of fresh starts in many areas for both you and us. In January, Prosperident will launch a quarterly themed webinar series. The theme for winter 2021 is "Designing Your Post Covid Practice," and it reflects our commitment to no-cost education and CE's for all dentists, dental specialists, and dental practice owners. We have streamlined the registration process and concentrated on presenting topics meant to inform and educate you as you continue to reach your goal of having your most prosperous business year ever!
If there is a silver lining to the events of 2020, Covid has created a wave of thoughtfulness and caring for each other that, while always a hallmark of the dental profession and Prosperident, seems more genuine and authentic now. This is the one gift offered by the past year's events that my team and I will hold close.
Please join Prosperident as we invite all of you to put 2020 in the rearview mirror and as we all forge ahead, both stronger and more connected than ever.
Happy New Year!

David Harris
Designing Your Post Covid Practice
Join us for our Winter 2021 webinar series. For information and registration please click
HERE
.
We are looking forward to "seeing" you on January 21!